Instagram Search is essentially a search function for users to explore and discover content.
Using this function, you can discover brands, posts, hashtags and different locations.
Why should we use Instagram search?
If you are serious about growing your account and followers, then using the explore function will help.
Find and discover accounts and hashtags using the explore tool.
When you perform a search using search, Instagram categorizes the top results, accounts/profiles, hashtags and places to make it easy to find what you're looking for.
Instagram's algorithm knows who you like, what you like, and who you engage with.
Instagram knows all this about your followers as well.
Instagram can predict what kind of profiles you may enjoy and shows these Instagram profiles in the "Suggested" and "Because You Follow" results.
To see these results click the search bar in the Instagram Explore page — it will populate a list of accounts based on your activity.
How it works
Instagram crawls profiles, extracts information and understands what the profile is relevant to.
Their algorithm then decides where to place your profile in the search results.
Tip: On your profile click "Edit Profile" to change the Name field in your profile.
How does Instagram rate your profile?
Search results are based on a few factors, for example, the profiles you follow, followers, and what photos and videos you have previously liked.
Your Instagram behaviour also dictates how Instagram rate and rank your profile in Instagram search.
For example, if you have liked a profile or engaged with images and videos.
The followers your followers have engaged with also count towards this.
Add keywords to Name Field
To get discovered on Instagram Search you'll need to optimize your Instagram name field on your profile.
The "Name" field in your Instagram bio is searchable and has the ability to be customized.
This is completely separate from your Instagram handle.
Add Hashtags & Keywords To Your Instagram Bio
Your Instagram bio should be optimized with keywords for your brand and company.
Try adding a clickable hashtags into your Instagram bio to increase your chances of appearing in the search results for your account.
If someone searches for the hashtag your profile will appear too.
Add locations to your Instagram posts
If you add a location tag to your posts you can improve your chances of appearing higher in the search results. Why? Because the post is relevant to that location.
This is applicable to posts and to Instagram Stories.
Add Your Physical Location To Your Profile
Try adding your physical location to your profile if your business has a physical location.
This is a good strategy to bring engagement to your gym, hotel, cafe or restaurant.
Tip: When searching a location your shop may appear under the Places tab — highlighting your profile and where your customers can find your business.
How to set-up your location tag
Navigate to the setting page of your Facebook Business page to update your address information.
Tip: You will need a Facebook Business Page and an Instagram Business profile to do this. Instagram will also share all your business details like the full address, opening times, and a business contact number in the search results.
Make sure your Instagram profile is up to date:
1. Go to your business profile.
2. Click Edit Profile.
3. Under Business Information, you can edit the following: Instagram business page, Business Category and Business contact information
4. When you're finished updating click "Done"
IGTV Video Titles and Descriptions
If you haven't experienced Instagram's video channel you should check it out as soon as you can.
IGTV is a standalone video application by Instagram for Android and iOS smartphones.
It allows for longer videos compared to Instagram.
The IGTV search function is changing all the time.
Regardless of what changes are in the Instagram pipeline, your video titles and descriptions will always be important to the algorithm, so now's the time to optimize everything that you post.
A keyword rich profile, like the one below, will include you in any related keyword searches.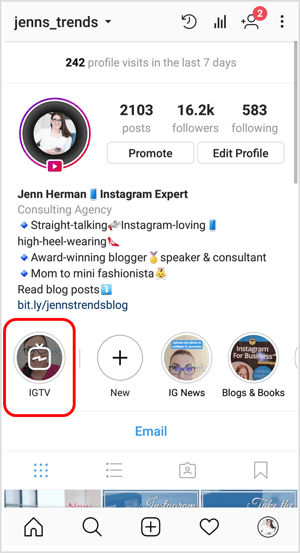 You may wish to consider optimising your IGTV title, although, it's currently not searchable text, you can include hashtags and URLs to direct traffic.
IGTV is another way to tell Instagram what your video contains and also how Instagram should categorize it and display it to potential viewers and followers.