As Instagram is very image heavy and video based, it makes the perfect platform for anything to do with weddings and wedding photography.
You can see and buy dresses, bouquets, venue or photographers via the platform.
Instagram has 1bn active users, so with these large numbers you can imagine how easy it is to get found.
Discover new brands
Brands can be found fairly easy on Instagram as most users interact with the app to find brands.
It's important to make sure that your brand account is linked to your personal Instagram account.
Using Instagram to make your brand visible is a great way to reach your audience.
Get up close to your customers
Put a face to your brand using Instagram.
Try introduce your business, team and customers via video and images.
For example, customer testimonials can improve your brand story, image and visibility.
Instagram Stories are short videos which can showcase your business – great for wedding deals or promotions.
If you don't want your Instagram stories to disappear in 24 hours you can save these as highlights.
Tip: To do this visit the highlight section underneath your bio, this way you can keep them there permanently.
With Instagram's broad reach and user engagement, wedding photographers can expand their audience and even reach unknown markets.
The key to Instagram is to do more activity than just post images or videos.
We recommend commenting and messaging to build real relationships with real followers.
It's recommended to make your Instagram feed a place of discovery for people as this will keep them engaged.
For more ideas read this recent post out for ideas on 10 things you can do as a photographer to grow our account
Instagram For Business
71% of businesses in USA use Instagram, with 25 million business profiles in total.
Why is having a business profile good for growth?
Instagram Insights
A free analytics tool for Instagram which provides key information about your profile, followers, posts and ads.
You can see the gender distribution of your followers, the location and the time & day of the week when your audience are active.
This means you can pick the best time to post and engage with your target market.
Instagram Ads and Post Promotions
Instagram business profiles allow you to run ads for anything in relation to your business – from wedding photography to shots of food for your restaurant or bar.
With Instagram insights, you can also see and track the growth of your Instagram account and results of your ads.
You can link your Facebook page and Instagram business profile together for greater control.
This allows you to run Facebook ads on Instagram within the same budget.
This makes it easy to create your ads across both channels and engage with customers on a larger scale.
Use call to action buttons
Business profiles can chose to add a contact button to their profile.
You may wish to add directions, an email address, a link to your website and/or a phone number.
Get found with Hashtags
If you are thinking of starting your business you need to learn how to use hashtags properly.
There are easy and effective ways to use hashtags in order to get your wedding photography services visible.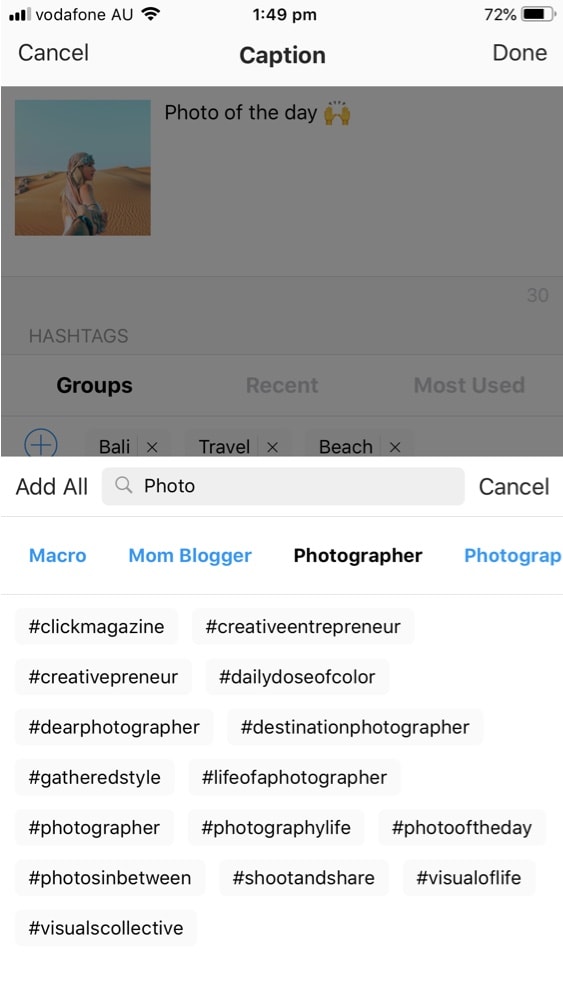 You can use up to a total of 30 hashtags in a post, however, studies have shown that posts which use nine hashtags often receive higher levels of engagement.
Quick Tip: Using a #WeddingPhotographer hashtag on every post isn't the best strategy.
Below are some of the ways to build and find hashtags which can help you get discovered:
Identify Instagram accounts which are industry-leaders in the wedding industry
Search for these accounts on Instagram and follow them
Search for related hashtags
Use Instagram Stories to find wedding content
Analyse the 10 hashtags used for these accounts and try using them on your posts.
Geotags
Geotags help you reach your local target markets, which is perfect for wedding photographers.
While following and searching for similar accounts, try build a connection with them too by leaving comments on their posts.
Connect with other Instagram profiles
Your Instagram account is not just a platform to connect with your target market.
Instagram is a meaningful way to connect with people you know, and those who you may want to reach out to with a request.
The images which you take during a wedding may include other suppliers, for example florists, cakes and wedding planners.
You can tag them on the image you are going to post and also tag them in your Instagram captions.
If you tag the people you've worked with, this opens the door for others reposting.
Once they decide to repost your Instagram post, they will also tag you for your work which could make your account visible to their followers and account.
Use Instagram Stories
Engage and involve your followers and potential clients with your work via stories.
There are over 400m people who use and watch Instagram Stories.
That's a huge audience for potential work.
How can you get people to watch the stories?
Sharing behind the scenes images and videos can entice people and engage them.
Are you shooting a pre-wedding at the beach?
Share the day from start to finish with your followers along with some tips on how couples can enjoy the location via Instagram Stories.
If you're not taking images you can also share some photo editing tips on your Instagam Stories. For example, different themes and colours to use for your wedding.
Before and after photos can receive high levels of engagement.
It you receive great customer feedback we recommend that you share it.
Highlighting testimonials on your Instagram Story engages your audience and you can see how real couples engage with your posts.
This boosts your trust and helps you stand out against other wedding photographers.
Instagram Giveaways
Giveaways are often the easiest way to attract new users to your account by promoting your giveaway post.
The best things about giveaways are that they give you the option to work alongside another wedding related service provider and market both businesses together.